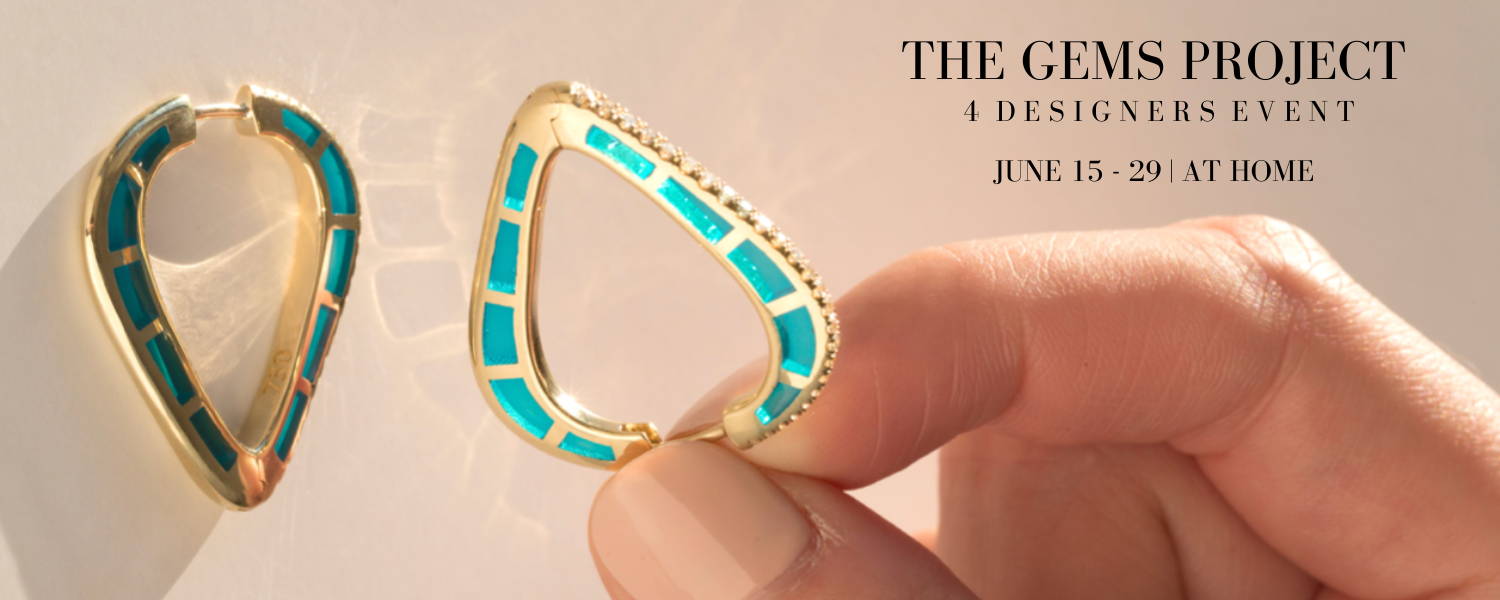 Please text our jewelry concierge at 307.733.2640
for further questions regarding this event, or to see more of the collection.
An intense admiration for art and architecture combined with a love for forms and sensuality of volume, Moksh creates jewellery with a vision of spectacular beauty that redefines glamour and style for the modern and judicious women of 21st century.

An inherent skill, passion for artistry, use of exceptional raw materials along with utmost integrity of craftsmanship is what defines the spirit of Moksh. Presenting timeless pieces to the discerning woman of today, Moksh inspires a rich melange of fine jewellery making techniques with intricately crafted masterpieces.
Celebrating the combination of beauty and uniqueness found in gemstones, lapidarist Pamela Huizenga creates exclusive jewelry that combines precious metals with gems from around the world. At age 16, Pamela began studying the art of stone cutting under the tutelage of Jerry Call. This early passion for "rocks" lead her down the path of exploring design and all areas of the jewelry industry at a young age, but it wasn't until 2009, when she began focusing more on her own design aesthetic, that her collection began to blossom.
Pamela's unique ability to pair unusual and rare gemstones, with her chic and timeless jewelry designs, is intriguing to the jewelry collector who is constantly looking for something new. Inspired by the dichotomies in nature, Pamela expresses both the calming and dramatic force of the oceans, the serene and yet vibrant colors of the deserts and the contrasting hues of the world's forests. Each of her creations is a one-of-a-kind piece, designed with exacting specifications, and Pamela is involved in every step of the design process. From cutting and polishing stones, to layouts on her signature duct tape, to design and manufacturing - Pamela's hand touches it all. Pamela is constantly searching the globe for beautiful and intriguing stones, evidenced in the magnificent color she uses in all of her work.
Artist Andy "Lif" Lifschutz' continuously evolving collection of fine jewelry is a culmination of his life experiences. For Andy, inspiration is boundless. It can come in the form of a smile he shares with his son, the subtle warmth of the Oregon sunshine on his skin, the hum of history throughout the streets and alleys of Italy, memories of his grandmother's hands in the process of creativity, the gritty energy surrounding his Brooklyn studio, the vibration emanated by a collective chanting at his California Buddhist center, or in the simple act of spending time with his wife and family in their Los Angeles home.
Hand crafted in Cedar Rapids, Iowa, Leigh Maxwell jewelry is committed to the creation of designs showcasing the natural beauty of brilliant, precious gemstones. The warm touch of solid 18kt gold is combined with natural gemstones in simple, yet elegant designs, blurring the line between everyday luxury and special occasion wear. Their pieces are to be worn and treasured as reminders of special milestones or relationships. Their jewelry becomes a signature piece, cherished for generations.

Due to their commitment to hand fabrication and use of natural gems, their pieces are in limited production, making each one as unique as the woman who wears it.